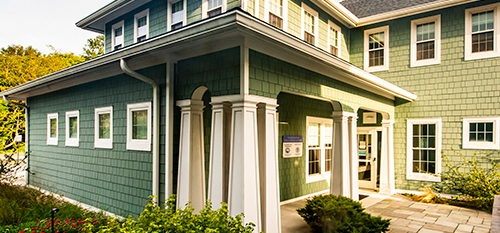 LOCATION AND FACILITIES
The Cayce/Reilly® School of Massage is located on the beautiful A.R.E. campus in Virginia Beach, Virginia. The campus is located on 67th street, directly across Atlantic Avenue from the Atlantic Ocean, and is comprised of the original Cayce Hospital building, the Don and Nancy deLaski Family Foundation Education Center, the A.R.E. Visitor Center and the Wynn building. On campus is a beautiful meditation garden, complete with waterfall, trees, and plants adding an air of peace and tranquility, as well as a Labyrinth and Reflexology walk.
The school's administrative offices are located on the second floor and student clinic, massage and lecture classrooms are located on the first floor of the Education Center. Complete audiovisual equipment includes digital interactive whiteboards (mondo boards), equipped with DVD, internet and tele-conferencing access. Other study aids include skeletons, models and wall charts for anatomy classes.
The school provides massage tables for classroom and clinic use, and utilizes the hydrotherapy facilities in the A.R.E. Health Center and Spa. Several areas are shared by students, faculty, and A.R.E. staff. The ground floor (patio level) houses the clinic facilities and hydrotherapy rooms of the Health Center & Spa.
The A.R.E. Visitors Center, built in 1975, houses a bookstore, library, meditation room, and two spacious auditoriums. Located within the library is the Alan Smith media lounge equipped with WiFi, computers and printers for the use of students.