ACADEMICS
Timeless Teachings in a Changing World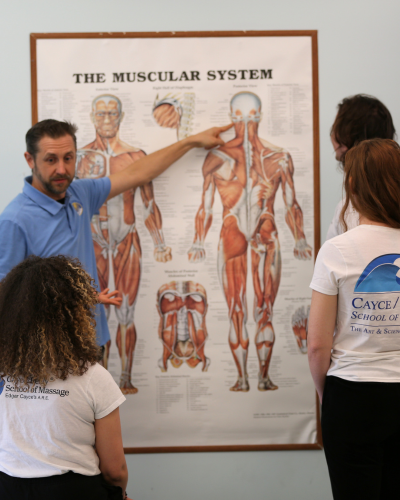 Cayce/Reilly students master health science courses like Anatomy and Physiology, Pathology, and Nutrition. The academic offerings also include ethics, business, and Asian theory. Other classes like Body, Mind, Spirit encourage personal development and growth and a holistic health perspective. Hands-on classes begin with the Cayce/Reilly massage and expand to cover hydrotherapy, reflexology, Jin Shin Do, and others.
Our well-rounded curriculum prepares our students for employment in any massage career: whether it's a medical setting, chiropractic center, spa, sports therapy, or alternative healing center.
All students who are enrolled in the 700-hour diploma program must maintain Satisfactory Academic Progress. SAP is determined by attendance and grade average. Students cannot miss more than 20% of any class and must maintain a minimum "C" average to meet SAP requirements and graduate successfully.